Southborough Police announced that they are now equipped and trained to use Narcan to save lives.
In July, the department got approval to equip cruisers with Narcan.  At that time, Chief Kenneth Paulhus pitched to the Board of Selectmen the necessity and safety of the measure.
Paulhus told the board that the Governor had declared opiate overdoses a public health emergency. The town was able to take advantage of a state grant fully funding Narcan for police use.
The chief further explained that in the past, responders had to wait for "rescuers" to administer a needle. Now officers who are first responders on the scene can use a nasal spray.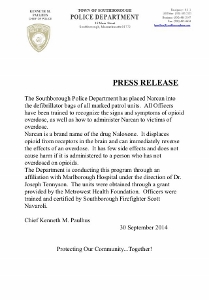 The injector is carried with defribillators that officers already use to help in medical emergencies.
Paulhus stated that officers wouldn't give it to just anyone found passed out. It would be used only when there was evidence or knowledge of probable opiate use.
If there is a misdiagnosis, there are no purported side effects.
In the press release issued yesterday, Paulhus says officers are now trained to recognize signs of opioid overdose.
The program is overseen by a Marlborough Hospital doctor.