SOS (Southborough Organization for Schools) runs a bunch of fundraisers in the fall and through the year. Right now, families are selling items from candles to candy.
But they are also collecting in ways that don't require you to really dip into your wallet.
Last year, I shared some. This year, there's a new one (but you have to act quickly.)
Here are the three taking place right now:
Coffee for Kids
(The name of this fundraiser gives me visions of jittery kindergarteners. But don't worry, the coffee itself isn't actually for the kids.)
If you're a coffee junkie or can't resist a good donut/cake pop, this fundraiser's for you. When you pre-purchase a gift card for Dunkin' Donuts or Starbucks through the SOS, they get a little kickback.
What I love about using the gift cards is I can load them onto my smart phone apps. Both vendors offer great "perks" for regular users, including free drinks. And I don't need a wallet to get my fix. The clerk just scans my phone.
The deadline for this fundraiser is this Friday, October 3rd. Click here for the pdf. You can send the form in with payment in backpacks of Finn or Woodward students.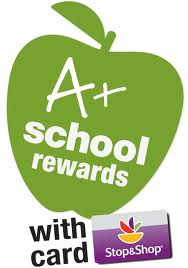 (Don't have one, drop it off at the school office or use your neighbor!)
If you have questions, email [contact info removed in 2021*]
Stop and Shop's A+ program – Time to Renew!
Participating schools – all Southborough K-8
Simply click the link to sign up online. Register your S&S card and select up to 2 schools.
This needs to be renewed each school year.
Points are earned based on purchases linked to the card between September and mid-March. Points are used to determine funds that the store will contribute to the schools.
(This

does not

take away from your personal gas point earnings.)
Box Tops for education:

Neary is currently collecting for deadline of October 18th
Cut the "Box Tops" off packages, place them in a baggy and send them in your child's backpack.
Other schools usually participate during the year. So, keep putting the "box tops" aside even after the 18th.
Click here for more information on related products.
*Updated (1/26/21 8:25 am): I removed the old email address to protect the organizer's information since it is no longer needed.