Southborough Little League is holding its annual meeting this Sunday, October 5, 2014.
Organizers are encouraging anyone interested in learning more about the league or contributing to the program to come "regardless of baseball/softball expertise."
The invitation explains:
The continued success and growth of our program depends on the ongoing infusion of new and motivated League members into our leadership structure.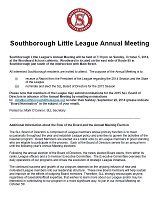 The meeting will be held at 7:30 pm in the Woodward School cafeteria.
The league meeting is to:
(i) receive a Report from the President of the League regarding the 2014 Season and the State

(ii) nominate and elect the SLL Board of Directors for the 2015 Season of the League