Mark your calendars – Sunday, October 26th is the Southborough Firefighter's Association annual Halloween costume contest and parade.
Time to start thinking about a creative costume – Pinterest has some pretty good ideas to start!
Line-up in front of Mauro's Market begins at 3:30 p.m.
The parade from Mauro's Market will  start at 4 p.m. Kids can collect treats inside the Fire Station at the end.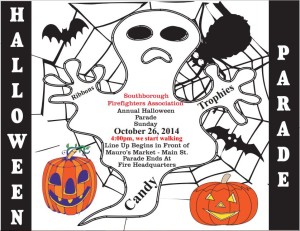 In the station, a panel of judges will determine the most creative costume, scariest, and cutest costume.
Winners will receive a trophy.
For past photos of the event, click here.