Saturday morning, Long Cadillac is hosting "a straightforward discussion of how to keep safe behind the wheel."
The talk is focused on teens and their parents/guardians. (Though it is also open to any adults concerned about "dangers on the road today".)
The idea was inspired by Long's sales manager's conversations with parents buying their teens' first car. The dealership then teamed up with Southborough Police and In Control Crash Prevention to offer the free seminar.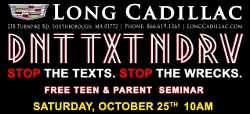 Promotions for the seminar focus on texting and driving. Warnings include statistics on dangers for new drivers and remind parents of the importance of setting a good example:
The most dangerous time of a teen driver's life is the first 12 months of licensure
A teen driver's crash risk is three times that of more experienced drivers
Texting increases the crash rate to eight times
68% of teens admit to texting while driving
Car crashes are the #1 killer of teens
Teens really do learn to drive from watching their parents.
The seminar is 10:00 am this Saturday, October 25: 
Our In Control Crash Prevention guest speaker will have a 35-45 minute presentation. The Southborough Police Department will then address the students for approximately 10 minutes followed by a question and answer period.
All student attendees can enter the drawing for a free In Control Crash Prevention course. (Double chances by printing and bringing your RSVP ticket.)
Coffee and pastries will be available in the showroom prior to the start. Pizza will be offered for those who stay after for the drawing.
For more details or to register, click here.