Here are highlights of what's happening around town this week. For more details and the full list, check the Event Calendar.
Monday, November 10, 2014:
Veterans Day celebration (11:45 am – 12:45 pm) @ Epicurean restaurant at Assabet valley technical high school: The Southborough Senior Center is holding a special luncheon for their veterans. The program is limited to a veteran and one guest at no charge. The buffet lunch includes an opening flag ceremony.

Tuesday, November 11, 2014:
Veterans Day – No Public School
Veteran's Day Parade (10:15 – 11:00 am) @ From the Community House to the All Wars Memorial: Participants meet at 10:15 am; procession begins at 10:45 am. See dedicated post for details.
Veteran's Day Ceremony (11:00 am – 11:40 am) @ All Wars Memorial. See dedicated post for details.
Wednesday, November 12, 2014:
Technology Days (2:15 – 3:30 pm) @ Senior Center: Algonquin students will answer seniors' questions about cellphones, iPads, laptops, e-readers and more. Please write your questions down ahead of time so that everything can be answered.
Thursday, November 13, 2014:
Southborough Gardners' Guest Day (10:00 am) @ Pilgrim Church: Annual holiday fundraiser. Nancy Vargas of Le Jardin Blanc will create arrangements "Inspiring an Earth-Friendly Holiday Season". Refreshements, prize drawing and boutique. See dedicated post for details.
NSPAC meeting with Student Support Services (11:00 am – 12:00 pm) @ Neary School: Northborough/Southborough Special Education Parent Advisory Council's first meeting of the school year with the district's Student Support Services. See dedicated post for details.
Trottier/Neary schools Early Release (11:20 am)
Author Series: Brian McKeown (7:00 – 8:00 pm) @ Southborough Library: Brian McKeown, author of Hannah's Left Hook, will be presenting background he researched while writing his novel. His book is "a story of survival, feisty determination, and the occasional black eye."
Friday, November 14, 2014:
Breakfast Club – NEADS (10:00 am) @ Senior Center: Enjoy breakfast, then here a presentation by NEADS. NEADS trains service dogs for use with people who are deaf or have a disability. They also train for helping autistic children and veterans suffering from PTSD. The dogs are trained by prisoners. But they also use outside volunteers to take dogs on weekends to learn about day to day activities.Suggested Donation: $6 Friends of COA members, $10 non-members.
Trottier/Neary Early Release (11:20 am)
Woodward Family Fun Night (5:30 – 7:30 pm) @ Woodward School: Fundraiser for Woodward SOS – The former "Ice Cream Social" has expanded into a full evening of family fun with pizza and Gym Games.As always, the night features ice cream sundaes and the famous basket raffle (13 fabulous baskets made by Woodward students, families, teachers and staff.) Gym Games – For $5, you can buy a ticket for a 20 minute session, or get one ticket free when you buy 20 raffle tickets.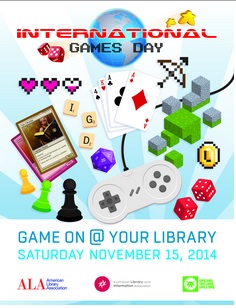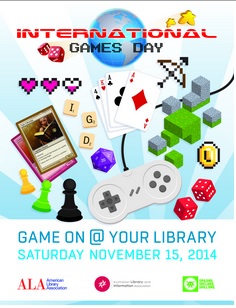 Saturday, November 15, 2014:
International Games Day @ your library (10:30 am – 4:30 pm) @ Southborough Library: For all ages. A day of gaming- from board games to puzzles, celebrating with libraries across the world as part of International Games Day sponsored in part through the American Library Association.For more info on International Game Day, see: http://igd.ala.org/