There isn't much going on in Southborough this week. So, it should be the ideal time to head out of town. (Especially, those of you bound for family gatherings.)
But, before hitting the road, you may want to rethink your travel schedule.
Southborough Emergency Management is sharing a warning about a snow storm forecast to hit Wednesday morning and last through Thanksgiving morning.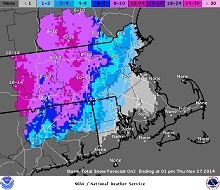 As I read the map, Southborough's snowfall is forecast at  2-6 inches. What's more concerning is the travel impact. Some towns north and west are expected to get up to 14 inches of snow. (Click map to enlarge.)
Neil Aspesi from SEM warns travelers to adjust their schedules:
[This storm] has two factors working against us. 1) It will be our first significant snow fall of the season & 2) It will strike on the busiest travel day of the year. . .

The State is strongly recommending that anyone planning on traveling by any means (especially by vehicle) adjust their plans accordingly to avoid being on the roads during the storm (travel either earlier or later). Also expect delays – so be physically and mentally prepared for a travel horrors as many others will be trying to cram in travel as well.
This isn't the weather channel, so don't look to me for the most up to date forecasts. This is just a warning for those of you traveling. Keep an eye on the weather and adjust your timing accordingly.
Included in SEM's message were the following alerts for Wednesday's weather: 
From the National Weather Service Taunton:
There is still a tremendous amount of uncertainty with the track of this storm which will affect where the rain/snow line sets up and how much snow any one location gets. However, because of the high volume of holiday travel and increasing confidence in a plowable snowfall across these areas, we opted to issue Winter Storm Watches. This means we have a 50% confidence in snowfall amounts of 6 inches or greater in these areas.

In addition, there is potential for strong winds along the coast and heavy rain south and east of the rain/snow line.
From the National Weather Service Albany:
Winter Storm Watch for all of western New England and all of eastern New York excluding the western Adirondacks and western Mohawk Valley in effect from 7 AM Wednesday until 10 AM Thursday.

Snowfall totals of 9 inches or more possible
This will have a significant impact on holiday travel.