Updated (12/30/14 10:50 am): Warm temperatures have forced them to move the event to the indoor rink. Skating will be from 12-2 and sticks and pucks 2-4. (More details to be posted later today.)
The town's prestigious private schools are holding a community celebration on January 4. It will be in honor of their 150th year as part of the Southborough Community.*
The event is a Southborough Pond Skating and 4 on 4 Hockey Social. It's meant to be festive even for those who don't skate:
Even if you don't skate, come ring in the New Year next to a roaring fire in the warming hut, with hot chocolate, coffee and cookies for all.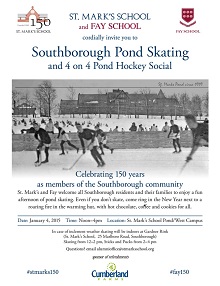 The celebration is scheduled for noon to 4:00 pm at St. Mark's School's pond on their West Campus, off Marlborough Road. (Look for the pond on your left. Parking will be on Rte. 85 and St. Mark's Drive.)
In case of inclement weather, the backup plan will be to hold the party inside Gardener Rink.
In this case inclement weather includes weather too warm for a frozen pond! (If it isn't frozen enough by New Year's Day, the school will make an announcement. So, stay tuned for any updates.)
If the event is outdoors, skating and hockey will be available for the full event. If indoors, skating will be from 12-2 and sticks and pucks 2-4.
*St. Mark's School was established by Joseph Burnett in 1865. Technically, Fay School will turn 149 this year. But I guess that's close enough.