As in year's past, Boy Scout Troop 1 will haul away the last remnants of Christmas for a small fee next week.
Christmas Tree Pickups will take place the morning of Saturday, January 10. 
So, if like me, you hate undecorating your tree, you can put it off a while longer.
(Of course, if you're eager to be rid of it, you can always store it beside/behind the house until pickup day.)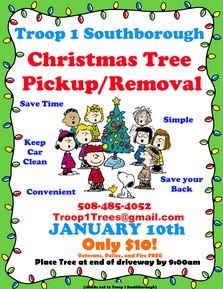 This year it's a flat $10 fee for any tree – with a few notable exceptions.
The Troop is offering to clear trees for Police, Fire and Veterans for free.
To schedule your pickup email troop1trees@gmail.com or call 508-485-4052. Provide your name, phone number, and address.
Make sure to place your tree at the end of the driveway by 9:00 am on Saturday, January 10.
Your donation should be in a plastic bag attached to the top of the tree.