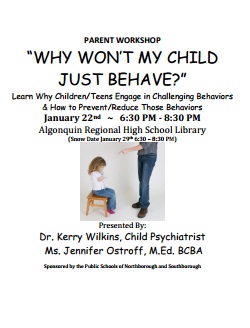 If you're at your wit's end over your child/teen's misbehavior, you'll want to save this date.
On Thursday, January 22, the school district is hosting a workshop to help parents:
"Why Won t My Child Just Behave?"

Learn Why Children/Teens Engage in Challenging Behaviors & How to Prevent/Reduce Those Behaviors
The workshop will take place 6:30 – 8:30 pm at Algonquin Regional High School Library.
Presentations will be made by Dr. Kerry Wilkins, Child Psychiatrist and Ms. Jennifer Ostroff, M.Ed. BCBA.