There are a few news items out of the Southborough Library worth sharing. Two are invitations to help the library as it looks to the future. Another is an offer of amnesty. And the last is of an image makeover.
As I posted in the events for the week, the library is hosting a Legislative Breakfast this Friday. The public is invited:
Join Jamie Eldridge, Carolyn Dykema, and Kate Hogan for a morning that celebrates libraries across the Commonwealth and the politicians that support them. Learn more about the issues facing library cuts statewide and get more involved with library advocacy.
For more details, read the events post here.
The library is also looking for residents to help them with Strategic Planning:
Want to be involved in the library's future? Southborough Library Director Ryan Donovan is putting together a group of Southborough residents representing different demographics within the town. He is forming a new Strategic Planning Committee to plan out goals for the next five years of library service for Southborough residents. We need you!

The first meeting will take place on a Thursday evening in March. More details will be provided once the committee has been finalized.
One more request for help comes with an incentive. The library is asking people to contribute to the Southborough Food Pantry. If you bring a pantry donation to the checkout desk, staff will waive your overdue fines – for Southborough materials. (Fees for lost, damaged or interlibrary loan materials are not applicable. )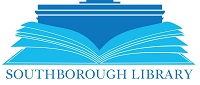 And the final news item is the library's newly adopted logo (see image right).
Special thanks to Connor Ward from the school of Museum of Fine Arts for designing the library's new logo! Several students in a graphic design course at the school took part in a contest to create us a new logo. Connor's design was chosen out of eight submissions. We are grateful to him for his hard work on this project.