Last night, the Conservation Commission voted to extend the lease for the cows at Breakneck Hill. But according to Southborough Wicked Local, the commission put off a decision on a plan proposed by the Breakneck Hill Cow Fund.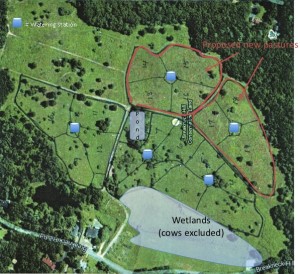 Until a new plan is approved, the cows will have access to fewer pastures than they have used in years past. For now, the fate of the herd is still in the air.
The BHCF proposal would replace wetlands the cows aren't allowed on with upper land pastures. (See their proposal to the right – click to enlarge.)
The Stewardship Committee is concerned about the effect that would have on ground nesting birds.
Meanwhile, the Conservation Commission doesn't believe it has the right to allow that additional land use without prior approval from the state.
From SWL:
The commission ultimately voted to extend the current license until the end of the year and try to move fast to come up with solutions. The matter will likely be discussed at the commission's next meeting. . .
Stewardship Committee member Freddie Gillespie said the committee supports extending the current license at the suggestion of Laurie Bourdon, president of the cow fund. However, they voted to not support the proposed expansion plan to spend more time exploring options.

"The stewardship committee is in no way anti-cows," Gillespie said, noting the committee must manage the land for a number of uses. "This will give us time to sit down and weigh many options and considerations and see what we can come up with."

Commission Chairman Mark Possemato said the changes would likely need to be approved by the state's Office of Energy and Environmental Affairs because of a state grant used to buy the land.

"I think one of the only things we have in our power is to discuss extending the current license agreement as it stands," he said.
SWL wrote that the operations manager of BHCF told the commission that their future is uncertain without the expanded land:
"We are on the edge," [Paul Bourdon] told the Conservation Commission, noting the fund's financial challenges.

"We have money to get through this year," Bourdon said. "Because of the uncertainty we've had for the past three years we haven't bred the cows."
For the full article, click here. For past coverage of the cows and their plight, click here.