Looking to update your business website or online profile with a "snappy new headshot"? A photographer in town is holding a special session this Thursday and Friday.
Don't think of it as an expense. Consider it a donation to a worthy cause.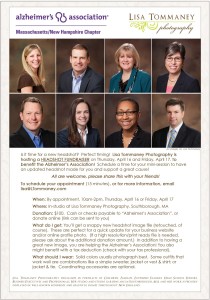 Lisa Tommaney is helping to raise funds to fight Alzheimers's disease. For a $100 donation to the Alzheimer's Association, she will provide you with a new headshot photo.
The photo session will take place on Thursday, April 16 and Friday, April 17 in the Lisa Tommaney Photography studio.
To make an appointment between 10:00 am – 2:00 pm either date, email lisa@LTommaney.com.
Your donation will help fund research and vital support programs services in the battle against the terrible illness.