Over the winter, Captain Joe Hubley retired from the Southborough Fire Department. A party is being held this month to celebrate his 37 years of service. The community is invited to join them.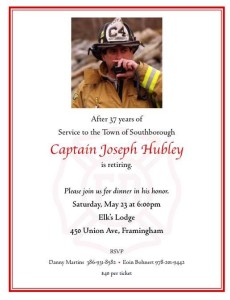 The celebration is Saturday, May 23 at 6:00 pm. The cost is $40 per ticket.
It will take place at Elk's Lodge, 450 Union Avenue, Framingham.
You can RSVP to Danny Martins 386-931-8582 or Eoin Bohnhert 978-201-9442.
(Click invite to enlarge)