Parents expressed concern last night about the Regional School Committee's knowledge of Common Core issues. What ended up front and center again was frustration over school committee communication practices. And again, the school committee pointed to Open Meeting Law as responsible for stifling discussion.
During Audience Sharing at the meeting, a Northborough mother presented a petition with 366 signatures from Northborough and Southborough (purportedly captured within "a few short days by a handful of people").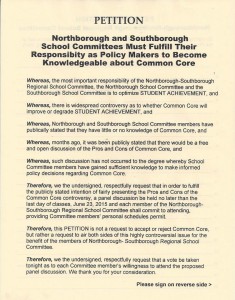 The petition calls for a pro/con forum to be held on the Common Core by the last day of school and for available committee members to attend. (Click on petition to the right for the full text.)
Lynn Minasian-Somers explained that the petition's purpose was to educate committee members who are responsible for implementing school policies:
I am asking you to be educated about this issue. That's all I'm asking you to do, please! The pros and the cons. It is not a simple issue, It's not a bipartisan issue, it is the future of education in our town, in our state, and in our country.
Chair Kathleen Harrigan refused to discuss the petition or topic last night. The chair claimed that since the item wasn't on the agenda, Open Meeting Laws prevented a discussion.
John O'Mara asked if it was possible to add the item to next month's agenda, Harrigan responded that they would take the suggestion. But she clarified that it's up to her and Superintendent Christine Johnson to decide whether or when to add it to an agenda.
In answer as to when they would know if something was on the agenda, Harrigan answered, "When the agenda comes out." She followed that the agenda is posted at least 48 hours in advance of the meeting. 
Asked to add the item to the agenda, Harrigan deferred that to later in the meeting, giving the audience no indication at that time of whether she would support it or not.
O'Mara continued to try to get the pulse of the committee. He said that in the past the committee had been in favor of holding a forum. Now there is very little time left in the school year:
But we're trying to get a sense: Are you with us, the idea of a free and fair exchange? Or is this going to be kicked down the road, so we lose this opportunity and it will be another year before we even discuss it?
Some members backed Harrigan's stance, while most remained quiet. One member, Barbara O'Mara, asked to address the petition and questioned the policy. The practice of how to handle audience sharing issues and who has authority over the agenda was discussed and debated among school committee members. (Discussion covered Robert's Rules of Order, committee policy, and Open Meeting Law.)
As a point of order, Harrigan did tell audience members that the committee had decided that Common Core education should be addressed by the Curriculum Advisory Committee. She said the subcommittee had been working on that all year and meetings were publicly shared. (Later, Johnson invited the public to that final meeting of the year, this afternoon at 3:30 pm at Algonquin. Department of Education speakers will address how Common Core fits in the Mass curriculum.)
Barbara O'Mara rebutted that those meetings aren't a pro/con discussion.
Minasian-Somers said that she hopes to hold a public forum at the Northborough Library on Saturday, June 20th. She has two speakers in mind and would be happy to hear suggestions for more speakers.
Later, during next month's agenda discussion, Harrigan and Johnson emphasized that June's meeting would be a very full agenda. Member Joan Frank suggested that the Common Core forum be scheduled outside the committee meeting, as when Johnson held MCAS forums. She suggested that it be considered for next year.
Member Dan Kolenda supported a forum outside of the committee. Kolenda said that since the committee Common Core dictates are outside of their purvue. He said everyone could be encouraged to attend forums like the one proposed at the library.
Member David Reuger asked if they should put the discussion on next month's agenda. Harrigan said they could. Member Paul Butka suggested the Curriculum Advisory Committee could present to the committee their work to date.
Johnson said that they were "definitely good ideas and worth conversation at the appropriate time."
The superintendent qualified that before holding a forum, she needs clarification about the purpose. She explained that
Common Core is a generically applied term to reference many aspects that are not at the heart of what the Common Core is when it comes down to the implementation of the Common Core as it applies to curriculum, instruction, and assessment.
She said that the term is used different ways. Internally, educators use it to refer to what is embedded in the curriculum frameworks. If parents are talking about issues like data acquisition, they may walk away frustrated.
Without clarification of whether or not it would be on next month's agenda, the meeting was adjourned.
Updated (5/21/15 2:26 pm): I had incorrectly written that Paul Butka suggested an update by the Policy Review Committee.