This summer, teens can learn to write, create, and perform their own original songs.
Sara Kendall will be holding two 4-part singer/songwriter workshops: one geared toward middle school students and one to high schoolers.
The performer and Berklee student is an Algonquin graduate formerly of Southborough. She has been teaching voice and songwriting to students in town.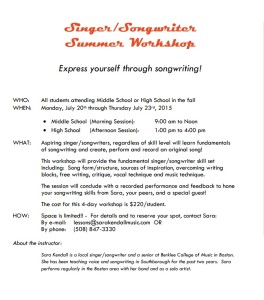 The week of July 20th, she's offering morning workshops for middle schoolers and afternoon for high schoolers. Kendall promises to provide:
the fundamental singer/songwriter skill set including: Song form/structure, sources of inspiration, overcoming writing blocks, free writing, critique, vocal technique and music technique.
For more details, click flyer to enlarge.