Southborough Recreation is offering movie making camps this summer. 7-13 year olds can learn the art of making Flix.
The week of August 3rd, kids can choose a morning camp to make animated movies and/or afternoon camp to film Legos in action. Incrediflix instructors will break campers up into age-appropriate groups to create their projects.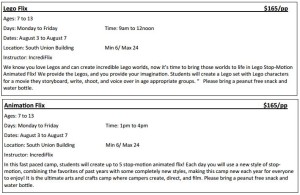 To get more details on the camps, enlarge the information on the right.
To register, click here.
(Note: Two Flix offerings for next week appear to have been cancelled due to lack of advance registration. So, if you're thinking about signing up, don't wait until the last minute!)