St. Mark's School will be sponsoring a FIRST Lego League team this fall for 4th – 8th graders  I just learned that they are holding an informational session tomorrow night.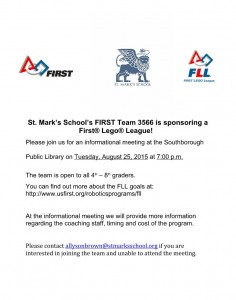 The Tuesday, August 25th, at 7:00 pm, the team sponsors will be holding a meeting to explain about the team and answer questions. You can join them at the Southborough Library.
If you can't make it, but would like to learn more, email allysonbrown@stmarksschool.org.
To find out more about the league click here.
Click flyer to enlarge.