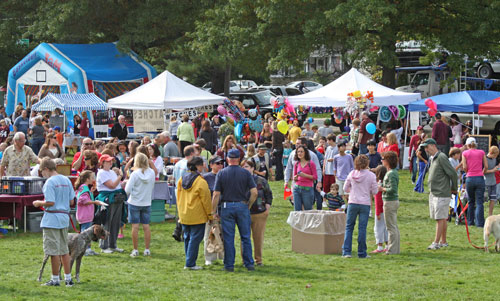 12th Annual Southborough Summer Nights is scheduled for this Saturday, August 30 from 5:00 pm to Dusk. I don't know about yours, but my family can't wait.
I will be taking photos, but I'd love to get your shots, too.
E-mail me your favorite pics from the event to mysouthborough@gmail.com. I hope to post a gallery early next week.
Now, here is the information you need.
Click on event map below right to enlarge.
Parking
Parking is available at both Neary & Trottier Schools. (However the access road between is closed.) There is a designated drop-off/pick up site on Parkerville at Lundblad Field, and specific instructions about parking and traffic restrictions that evening. Click here for the details.
Schedule

5:oo pm – Dusk: Free kids' attractions, Booths, Raffle and Food Vendors (Click map to enlarge for information on activities layout.)
6:00 – 8:00 pm: Music by Better Her Than Me
Dusk: Fireworks
Details
Food Vendors – between the school and playground
Booths exhibiting local businesses and organizations. Many offer great freebies for the kids, so be sure to visit. (On the map, these are represented by the curved light blue line.)
There's no official program this year, so I don't have vendor lists to provide. But there is one resident that asked me to help raise awareness of her booth.

Team Lemon is holding a fundraiser for Alex' Lemonade Stand Foundation.
Kathryn Rose and her friend Pam are running in a Disney event this coming January to raise funds for ALSF and are kicking off their fundraising through their booth (sponsored by CBK Organizing)
They will be giving out free lemonade and asking for donations to the cause:
[ALSF's] mission is to raise money and awareness of childhood cancer causes, primarily for research into new treatments and cures, and to encourage and empower others, especially children, to get involved and make a difference for children with cancer. We are running in memory of my childhood babysitter's son Wade Botteon who died at age 13 and Pam's aunt Kathy who died at age 18 both from Leukemia.
Test drive "robots" –
ARHS Robotics Team will raise funds by selling tickets for fun activities for kids (on tennis court)
Pony Rides
Inflatables (Moonwalks & Obstacle Course for Younger and Older Children)
Rock Climbing Wall
Bungee Run
Photo Booth
Speed Pitch
Basketball Shootout
Face Painting
Rolling Video Arcade (between the parking lot and food vendor area)
and "Games Galore"
Music: Picnic on Neary field while enjoying music from returning Better Her Than Me. They describe themselves as:
one of Boston's coolest, funnest, high-energy bands, playing great dance music from the 60s through the present. Top40, 80s rock, Motown, R&B, 70s funk, you name it.