I have more details to share about the festival this weekend at Chestnut Hill Farm.
The farm is inviting the public to the celebrate with them from 10:00 am – 4:00 pm on Sunday, October 11. Here are the highlights: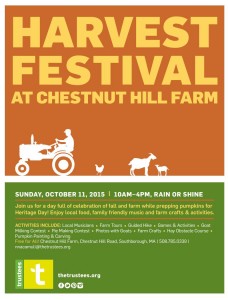 Pie-baking contest (Please sign up!)
This is dependent on having enough entries. They are hoping to hold both a youth and adult contest.
If you are interested in participating (for fun prizes) email Nicole Nacamuli (nnacamuli@thetrustees.org ) to enter. (If this does happen, awards are scheduled to be presented at 1:30 pm.)
Goat Milking Contest
Come root on some chosen 'local heroes' and a couple of volunteers chosen from the audience. The contestants will have a chance to get as much milk out of the goat and into the bucket within a 1 minute time limit. (Scheduled for noon.)
Pumpkin and Birdhouse gourd painting/carving/decorating (10:00 am – 4:00 pm):
Under the big tent, they will be selling pumpkins (free to Trustees members) and Birdhouse gourds, prepped and ready for painting
At the event, they will supply all you need to to carve or decorate the perfect pumpkin in time for the Annual Rotary Club Pumpkin Lighting that night. (Reminder: Drop off for that is in front of the library from 4:00 – 6:00 pm. Viewing is from 7:00 – 9:00)
The birdhouse gourds can be also be decorated as a ghost, ghoul, etc. – birds will still nest in it in the spring.
More ongoing activities from 10:00 – 4:00: 
Face-painting
Veggie Bingo
Veggie Stamping (use cut veggies to make a beautiful flag)
Local live music all day
Cornhole games
Meet the goats and bunnies
Cider pressing demo
Food vendors including Culinary Underground, Yummy Mummy Brownies, Powisset Cooks, and many more
Local conservation groups, organizations and businesses will have information booths
They are also hoping to set up a fun Haybale obstacle course in time for the festival.
Scheduled activities:
11:00 am: Farm Tour
11:30 am: Beekeeper demonstration – Scott Navaroli of Southside Apiary will talk about his bees and honey production
11:30 am – 1:30 pm: Photo booths with dress ups and/or face boards and even GOATS!
12:00 pm: Goat Milking Contest
1:00 pm: Guided Hike
1:30 pm: Pie Contest Awards
3:00 pm: Farm Tour
For a map of the events, click on the Black & White schedule above.
Looking for Monday's Heritage Day schedule? Click here.