If you don't have your Halloween costumes yet, you better get a move on.
This Sunday, October 25, is the Southborough Firefighter's Association's annual Halloween costume contest and parade.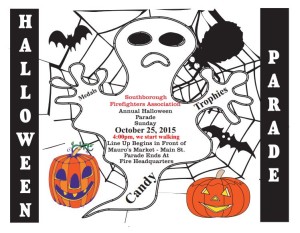 As usual, the line-up is in front of Mauro's Market with the parade starting at 4:00 pm. (Marchers usually begin convening around 3:30pm.)
Kids can collect treats inside the Fire Station at the end while they pass in front of a panel of judges.
Trophies are given out for the most creative costume, scariest, and cutest costume. And of course there's the coveted Captain's prize.
Seeking a win? Pinterest has some ideas that will get your creative gears turning!
For past photos of the event, click here.