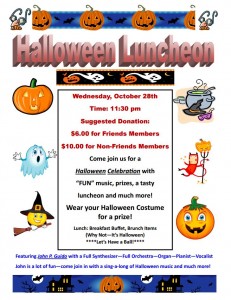 Halloween isn't just for kids and young families. The Southborough Senior Center will be hosting their annual celebration for the spookfest next week.
Senior residents are invited to join them on Wednesday, October 28th at 11:30 am.  (It's actually more of a "bruncheon" this year. The "light lunch" offered will be a breakfast buffet with some brunch items.)
The Halloween Luncheon includes Halloween music, for the third year by entertainer John Guido with his synthesizer.
They'll be giving out some fun prizes for costumes, so be sure to wear one. 
The buffet will be catered by Assabet Valley Technical High School's Epicurean Restaurant.
A donation is suggested of $6 for Friends of Council of Aging Members and $10 for non-members.