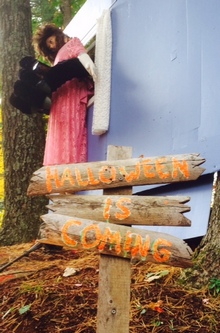 One couple has beat the rest of you to the punch in sharing their Halloween pictures. Of course, I doubt any of you have put the effort into holiday prep that they have.
Forget about seeking out the "good candy" neighborhoods tomorrow night. (After all, kids will eat anything with sugar.)
Take the kiddies to see the Sutherlands' "Lost Worlds" display at 139 Parkerville Road. (The plural refers to their combining King Kong's world with Jurassic Park.)
Blair Sutherland and his wife have been putting on grand Halloween displays in their yard for years. They take pride in creating fun Halloween memories for kids. (But with young kids in mind, they keep most of the fright out of Fright Night.)
Below is a preview of this year's fun. (If any of you have/take your own Halloween pics worth sharing, send them in to mysoouthborough@gmail.com.)
Tomorrow night after dark, you can expect sound effects, music and special effects to complete the illusion. (But no live actors jumping out to terrify tots.)
They expect to have the display lit and active until about 10:00 pm on Saturday night. So be sure to swing by.
For more on the couple's Halloween tradition: read Susan's story on the couple from 2011, with photos of an alien themed extravaganza; and check out at pics from last Halloween's Gotham display and from their 2010 exhibition of Disney villains.