It's the time of year for giving. So, when you are out shopping for loved ones, you might want to throw an extra toy or gift card in your cart.
Here's a list of the gift drive collections going on in or through our town.
If you have a collection drive not listed below, you can post a comment to let readers know.
I've already posted about SYFS' Holiday Giving Program
Their deadline for gift card donations is December 11th. For details, read the dedicated post here.
Project Just Because
The Southborough Fire Department is again collecting toys for this Hopkinton charity.  Project Just Because distributes the toys to families in Worcester County. Toys will be individually selected for a child and then delivered to the home in time for Christmas.
Gifts should be new and unwrapped. Requested items include:
Board Games for ages 10+,
Footballs / Soccer Balls / Basketballs and other sporting equipment
Stuffed Animals
Winter Jackets – All Sizes
Gift cards for warm clothing
Warm hats and gloves for all ages
Twin blankets
Toys for all ages
Please try to get donations in by Monday, December 21. The Fire Department is always open, so drop them by any time.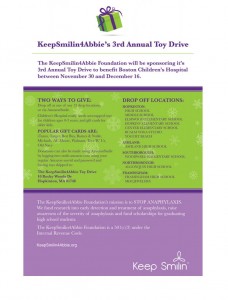 KeepSmilin4Abbie's 3rd Annual Toy Drive
Donations are for Boston Children's Hospital. For children ages 0-3, donate an unwrapped toy. For older kids, please donate a gift card.
Dropoff in Southborough is at Woodward Elementary School. You can also donate via AmazonSmile (enter Keepsmilin4abbie Foundation) or through 11 other dropoff sites. Click flyer for more details.
Toys for Tots 
Since 1947, Marines have been collecting gifts for underprivileged children. Gifts should be new and unwrapped. They can be for ages anywhere from 1-16 years old.
The following places in town are again collecting for the program this year: 
Southborough Senior Center
9 Cordaville Road
Mon-Fri 8:30 am – 3:00 pm, Saturdays 9:00 am – 12:00 pm
Deadline is December 12
Southborough Veterinary Hospital 
78 Deerfoot Road
Monday thru Friday, 8:00 am – 6:00 pm and Saturdays 8:00 am – 1:00 pm.
Deadline is December 15.
Long Cadillac
218 Turnpike Road
Help fill the showroom Escolade with gifts
Sundays, 12:00 pm -4:00 pm, Monday thru Thurday 8:30 am – 8:00 pm, Fridays 8:30 am – 6:00 pm, Saturdays 9:00 am – 5:00 pm