We've all heard about the dangers of opioid abuse. Perhaps it's already hit close to home. Or maybe you're worried about the potential impact on your children.
Later this month, Algonquin is hosting a public forum on the issue.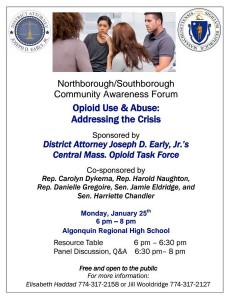 The event is sponsored by the Worcester County DA's office and our state legislators.
"Opioid Use and Abuse: Addressing the Crisis" will be held on Monday, January 25 from 6:00 to 8:00 pm.
A panel discussion with Q&A will address the issue. Panelists represent experts on treatment, prevention, public health, and public policy.
See the flyer for more details.