Some girls and their families can't afford to splurge on prom finery. But a local group is working to help make the prom a magical night for everyone. And they are seeking our help through donations and volunteers.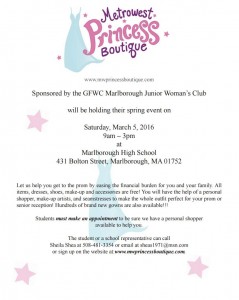 The Metrowest Princess Boutique allows students who need help to "shop" for free gowns, shoes, make-up, and accessories. (If you are interested in shopping the boutique, click the flyer for details.)
The annual event is put on by the GFWC Marlborough Junior Woman's Club.
Organizers are seeking donations. It looks like they have the dresses well in hand (aside from a few less common sized dresses on their Amazon wish list for donations.)
But they are still in need of modern accessories that appeal to high-school girls.
Have shoes, jewelry, purses, and cosmetics that fit the bill? You can drop them off at Serendipity in Hudson or Wayside Racquet & Swim in Marlborough.
They also need adult volunteers to help that day, Saturday, March 5th:
Have a flair for fashion? You could act as a personal shopper, assisting girls.
Love a good makeover? Help girls with their cosmetics.
No eye for fashion? Don't worry. There are plenty of other ways to help.
For more information, visit mwprincessboutique.com.