Southborough Recreation is offering a February Break Fun Day on Friday. (More of a fun morning, since it takes place from 10:00 am – noon.)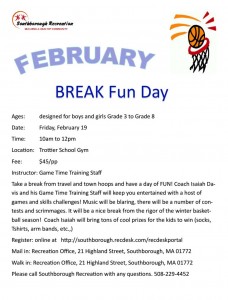 The program is for 3rd-8th graders. The cost is $45 pp and registration has been extended to Thursday, February 18.
The focus of the fun is basketball with contests, scrimmages, and prizes:
Take a break from travel and town hoops and have a day of FUN! Coach Isaiah Davis and his Game Time Training Staff will keep you entertained with a host of games and skills challenges! Music will be blaring, there will be a number of contests and scrimmages. It will be a nice break from the rigor of the winter basketball season! Coach Isaiah will bring tons of cool prizes for the kids to win (socks, Tshirts, arm bands, etc.,)
To register, click here.
Updated (2/17/16 1:58 pm) Reg deadline extended.