Town Meeting is less than a month away. So, it's time to start taking a good look at what voters will be asked to decide on April 11th (and possibly 12th).
Let's start today with Article 28, proposing adoption of the state's "Energy Stretch Building Codes".
The Green Technology Committee is reaching out to the community on their inititiative. The article is part of an effort to pursue a Green Communities certification by the state.  (Another article from the Planning Board is redefining the Solar Bylaw and overlay map for the same ends.)
In 2014, Selectman John Rooney asked the committee to look into what it would take to become part of the program.* The board learned that entering the program would entitle the Town to a $133,000 designation grant. And it would make Southborough eligible for other grants up to a potential $250,000. Since then, the Town has been taking steps toward securing those funds.
But what is the future impact of this specific requirement on trade builders and residents building new homes? The committee insinuates it's little.
A draft of the Warrant Article states,
It is anticipated that the new version of the building code slated for release in the summer of 2016 will incorporate the majority of [Energy Stretch Building Code] requirements. Despite that fact, the Commonwealth still requires acceptance of the [code] in order to become a green community and be eligible for grant funding.
Four of the towns surrounding us have adopted the measures to become Green Communities: Hopkinton, Ashland, Framingham, and Marlborough. Three have already received from $300K-$414K in grants.
I don't know enough about building codes, or the changes to come this summer, to shed more light on this article. But the committee is bringing in a state official to answer questions.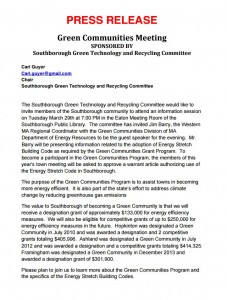 They are holding an informational session for the public on Tuesday, March 29 at the Southborough Library. It will take place in the downstairs Eaton Meeting Room at 7:00 pm. (Click press release for details.)
In the meantime, click here for information the committee shared on grants other communities have received.
For more information on Energy Stretch codes, click here.
For more information on the state's Green Communities program, click here.
*The Green Committee previously held an informational session for the town on the program back in 2012.