The Southborough Senior Center is planning more trips for this spring. In April, seniors can hop on a bus (for a fee) to visit the Isabella Stewart Gardener Museum and/or the John F Kennedy Presidential Library and Museum.
To take part, you need to be a member of Friends of the Council of Aging. But that's as simple as donating $15 per year to the group. (And it not only entitles you entry to members-only events, but discounts on many of the programs that are open to all Southborough seniors.)
The first trip takes place on April 7th. This Isabella Stewart Gardener Museum is a local jewel ias much for its building and grounds as it is for its prized collection. From its website:
Housed in a stunning 15th-century Venetian-style palace with three stories of galleries surrounding a sun- and flower-filled courtyard, the Museum provides an unusual backdrop for the viewing of art. . .

The galleries house works by some of the most recognized artists in the world, including Titian, Rembrandt, Michelangelo, Raphael, Botticelli, Manet, Degas, Whistler and Sargent.
Of course, it is also the site of Massachusett's most famous art heist. The Southborough Library hosted a recent author talk on the subject. (You can view that here.)
In terms of state history, the heist doesn't hold a candle to the election of the first Irish Catholic President, native son John F Kennedy.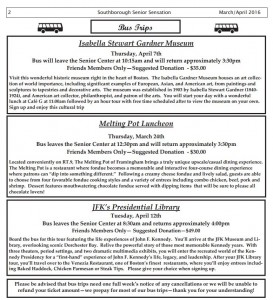 How close Kennedy came to losing that presidential run, milestones of his presidency, and his tragic assassination are some of the history seniors can revisit on April 12th.
For more details on the itineraries for each trip and suggested donations, click the senior newsletter page right.
To sign up, call (508) 229‐4453.