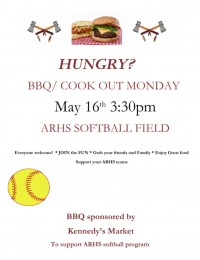 Next Monday, May 16th, ARHS Softball will be holding a BBQ/Cookout to raise funds for the team.
The fundraiser coincides with a varsity home game vs Westborough High. (The game and cookout start at 3:30 pm, but you can expect them to run to dinner time.)
So, bring a folding chair or blanket (and your wallet), and come enjoy a hot dog at the ball game. They'll also be selling burgers, sandwiches and snacks.
If softball isn't your sport, you buy some grub on your way to catching another game that afternoon.
Other Algonquin home games scheduled for Monday are:
Varsity Baseball vs. Westborough @ 3:30 pm
JV Baseball vs. Westborough @ 3:30 pm
Girls Varsity Tennis vs. Wachusett Regional @ 4:00 pm