Northboro-Southborough Football and Cheer will kick off on August 1st. But to qualify for the early bird rate, you need to sign kids up this month.
Jr. T-Hawks tackle football is open to grades K-8. They also offer flag football for grades K-2.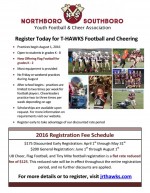 The football programs are open to girls, and some do participate. More sign up to be Jr. T-Hawk's Cheerleaders, also open to K-8.
The early bird deadline applies to tackle football grades 2-8 and cheerleading for grades 3-8. (A lower flat rate applies to K-1 tackle football, flag football, and U8 Cheer.)
For more details, click on the flyer right.
To learn more about the program, click here.