This Saturday, Chestnut Hill Farm is hosting it's "First Annual" Running of the Goats.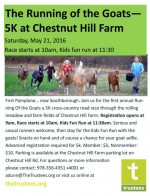 Casual and serious runners can take part in a 5K at the farm at 10:00 am.
Following the race is an 11:30 Kids Fun Run. Usually, that means it's just for children. But in this instance, it looks like they'll be joined by the other kind of kids.
Pre-registration is required for the event and there is a $5 fee for members, $10 for non-members.
To sign up, click here.  For more information, check out the flyer.