It's time to save some dates on your calendar. Southborough Youth & Family Services and Southborough Recreation Department are teaming up to run their fourth annual Summer Music Series.
The goal is to produce family friendly entertainment while supporting an important cause. Concerts cover several genres including Americana, Blues, R&B, and Bluegrass.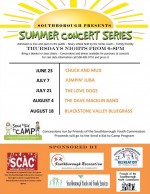 The concerts are scheduled bi-weekly on Thursdays from 6:00 – 8:00 pm at the Neary Field:
June 23 – Chuck and Mud (Original Folk Americana)
July 7 – Jumpin' Juba (Mix of blues and roots-y rock)
July 21 – The Love Dogs (Rockin' Swingin' Rhythm & Blues)
August 4 – The Dave Macklin Band (R&B, Funk, Soul, Motown, Reggae)
August 18 – Blackstone Valley Bluegrass (Great bluegrass, smooth harmonies, & fast but tasteful pickin'!)
Concessions will again support Send a Kid to Camp. (So skip cooking that night without any guilt. Buy your dinner, snacks and/or dessert while supporting charity.)
Concessions are run by Southborough Youth and Family Services. And the series is sponsored by a bunch of other do-gooders: Friends of Southborough Youth Commission, Southborough Cultural Arts Commission, Southborough Recreation, and Friends of Southborough Recreation.