Chestnut Hill Farm will be holding their free "Meet the Farmer" series again. The monthly events take place the first Saturday of the month, June through September. That means it kicks off this weekend.
There are generally family friendly activities, crafts for kids, and opportunities for the community to learn more about the farm and their programs.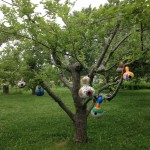 This Saturday, June 4th, attendees can paint gourds, and "meet" the goats and the chickens. You can also tour the farm and ask the crew questions.
Here are the details, courtesy of Farm Manager Desiree Robertson-DuBois:
Come and see what we've been up to in the fields for the last couple of months. Meet Desiree, Cole and Kirsten, our farm crew that has been working like crazypants to get the fields planted and the seeds sown. We will also have birdhouse gourds on hand for kids to paint and bring home. You may even get to meet a goat (or two or 20). Our new chickens might even make an appearance. This event is FREE and open to all so come by and see us!!!!!!

Schedule:
10a Bottle gourd birdhouse painting for kids
1030a Meet the goats
11a Farm Tour
1145a Meet the chickens
12p Bottle gourd birdhouse painting for kids
1230p Meet the goats
1p Farm Tour
145p Meet the chickens