On Tuesday night, the community is invited to learn about "Caterpillars of New England: Curious Critters with Surprising Stories". The illustrated talk will take place at the Senior Center, 9 Cordaville Hall.
The 7:00 pm presentation will be geared to adults and older children. It's to follow the "for all ages" exhibit of live caterpillars at the center from 3:30 to 7:00 pm that day.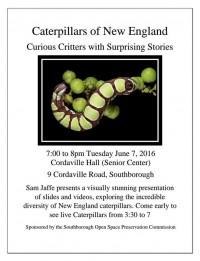 The free presentation is sponsored by the Open Space Preservation Commission and will feature images by photographer and Caterpillar Lab expert Sam Jaffe.
Sam Jaffe will discuss his colorful experiences collecting and rearing native caterpillars. He'll explain how he's used caterpillars as natural history photography subjects and educational resources to inspire interest in the natural world. Through a visually stunning presentation of slides and videos, Sam will explore the incredible diversity of caterpillars to be found in New England, their amazing defensive strategies, and their often-unrecognized value in our ecosystems and our lives. He'll also share insights on why you should protect native caterpillar species, and offer a few simple tips for conserving caterpillars in your own backyard.
For more details on the free "Caterpillars, Live" exhibit earlier that day, click here.