Southborough Cub Scouts are hosting an information and registration session at Finn this Wednesday, June 8th, 6:30 – 8:00 pm.
This recruiting event is for families with boys entering 1st through 4th grades this fall.
The info session is mostly geared to parents.  It's a chance to ask questions, learned what's involved, and to sign up.
To generate interest, Cub Scouts are encouraged to wear their uniforms or pack t-shirts to school tomorrow.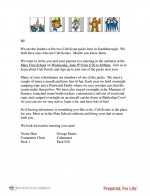 If you have a boy in Kindegarten, he may have received a personal letters in the mail inviting him to check scouts out.* If not, you can check out the invitation letter by clicking on the image.
If you have a son entering 2nd through 4th, don't worry about having missed earlier years. New members are always welcome.
*I remember when my son got his recruitment letter. He got so excited about joining the scouts, something I never thought would interest him.
Three year's later, he still loves being a Cub Scout!