Trottier Middle School's Big Band presents an evening of Jazz on Wednesday, June 15th.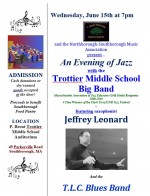 The annual Jazz Night provides a community showcase for students to demonstrate their talent. The band was a Gold Medal Recipient for the 8th year running by the Massachusetts Association of Jazz Educators. And they are 4-time winners of the Clark Terry/UNH Jazz Festival.
The band also uses the annual forum to support a cause. This year, they are again supporting the Southborough Food Pantry. A cash donation or a dry/canned good is kindly accepted at the door.
Their musical guest is saxophonist Jeffrey Leonard. He is a performer, arranger, conducter, director of Lexington High School's bands and jazz program, and a faculty member of The Boston Conservatory.
The crowd will also be treated to a warm up by the special T.L.C. Blues Band. (I'll share more details on that when I get them!)
Don't miss this year's show at 7 pm in the Trottier Middle School Auditorium.