The Southborough Senior Center is organizing more group trips. The primary theme is food, but there's also a nod to planes, trains and automobiles.
This fall, seniors can hop on a bus (for a fee) to visit the cafe at Stow Airport and/or board a train for a foliage tour.
To take part, you need to be a member of Friends of the Council of Aging. But that's as simple as donating $15 per year to the group. (And it not only entitles you entry to members-only events, but discounts on many of the programs that are open to all Southborough seniors.)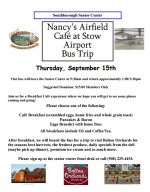 The first trip takes place on September 15th. The trip is for breakfast at Nancy's Airfield Cafe at Minuteman Airfield in Stow. From its website:
Large picture windows offer panoramic views of air field activity, birds feeding and flower gardens while the rotating display of local artists' work freshens the 'Main Deck' dining room.
On the way back, participants make a pit stop at Bolton Orchards in Berlin for fresh produce, premium ice cream and more.
On October 17th, seniors can catch the bus to the "New Hampshire Turkey Train".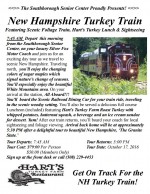 Riders will enjoy a Hart's Turkey Farm lunch while leaf peeping in the scenic White Mountains region.
For more details on both, check out the flyers.
To sign up, call (508) 229‐4453. Please be advised that bus trips need one full week's notice for any cancellations or the Senior Center will be unable to refund your ticket amount.