Southborough Youth and Family Services is preparing for another season of Project Friend. And the mentoring program keeps growing.
The program pairs younger and older "Friends" to help build positive meaningful relationships. In weekly meetings, friends talk and enjoy games, crafts or other activities.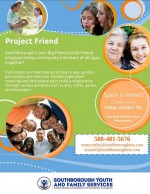 Organizers are encouraging applicants for mentors and for being mentored. Matches are based on expressed interests, personality, and gender.
Last year, they expanded the pairings. And this year they are adding more age groups. Little Friends will now cover age groups ranging from K-8.
On the Big Friend side, it expanded from high school students to adding groups of middle schoolers last year, and now both senior citizen friends and Framingham State University students.
They are seeking volunteer students in 7-12th grade and Senior Citizens who want to be positive role models. (For students, the program allows them to fulfill community service hours.)
They are also seeking families with K- 8th graders who would benefit from some special attention, a mentor, and positive role model.
For most age groups, there are choices of half year or full year commitments (mid-Nov to mid-Feb and late-Feb to mid-May). Friends will meet weekly in the following age groups:
K-1st grade Little Friends with 7th- 8th grade Big Friends
2nd-5th grade Little Friends with 9th- 12th grade Big Friends
4th-8th grade Little Friends with Senior Citizen Big Friends (Nov-May commitment)
6th-8th grade Little Friends with Framingham State student Big Friendss
(For the schedule details, open the pdf and read page 2.)
Anyone interested in either the full year or fall program needs to register by October 7th.
For more information, email mmccarthy@southboroughma.com or scassell@southboroughma.com, or call 508-481-5676.