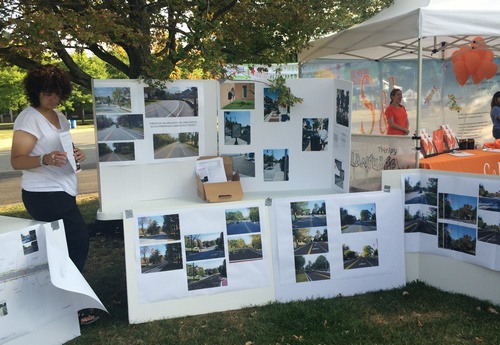 Last week, the Board of Selectmen reviewed the Citizen's Petition on Main Street Reconstruction. The petition asks Town Meeting voters to push for a locally funded Main Street repair project.
In discussion, both a petitioner and selectmen agreed that understanding the price of a local project was critical. But they couldn't seem to agree about whose job it is define what an alternative project would look like. Without that, no real cost estimate can be determined.
The petitioners' intent is to stop the Town's pursuit of the Main Street Reconstruction project under MassDOT TIP funding. Opponents behind the article have claimed that the TIP design would ruin the character of Main Street. And the petition asks the Town to stop trying to convert the road to "Federal Highway standards".
Selectman Dan Kolenda argued that the phrase is meant to scare people. He said looks forward to debunking the belief that the board planning to turn the street into a highway.
That wasn't a surprise to petitioner Sam Stivers. He began his brief presentation with the disclaimer:
There's nothing I could say that would sway the board on this. I'm going to save my ammunition for the Advisory Board and for Town Meeting. . .

The bottom line is that [John] Butler and [Steve] Phillips and I believe this project is too big, not in the best interest of the town, and therefore should not go forward
Stivers told selectmen that he trusted the Department of Public Works to come up with the cost for the alternative project. But he wouldn't blanket promise support for a DPW estimate. It depends on if he believes it's based on what they would reasonably do for other similar roads in town. 
Basically, he is reserving the right to argue that the estimate is based on a project that is still unreasonably "big". Stivers and other petitioners are looking for a "much more modest and much less expensive" alternative. He has been disappointed that the Town hasn't come up with an alternative. He, Butler, and Phillips have sat down individually with DPW head Karen Galligan who said that she wasn't coming up with an alternative to show them.
Galligan explained to me that she has been asking the opponents for specific things she could change. Answers have been vague references to size and feel of the project.
That was backed by Brian Shea's comments at last week's meeting. Shea is Chair of the BOS and sits on the Main Street Design Working Group. He said the struggle for the group has been comments like looking for something "more modest" or "we don't like the way it looks". Opponents have attended their meetings, but
there's nothing hard and definitive that's presented for an alternative
Selectmen appeared to be in consensus that any project needs to fix drainage problems, and include curbing and sidewalks for making downtown walkable.
Shea conceded to fellow board members that the Working Group will come up with an alternative to use for referencing the database of costs for an alternate estimate.
The question is, will opponents agree that it is the alternative they are looking for? The Special Meeting is next month.
The Working Group is scheduled to convene tonight, for the first time since last week's discussion. The meeting is at 7:30 pm in the Town House Hearing Room.
Updated (9/15/16 12:00 pm): In my rush out the door for half day pickup – I made a few obvious typos. Hopefully, they're all corrected now!
Updated (9/16/16 8:03 am): Somehow, one of yesterday's fixes didn't take. Content above is basically the same, just fixed a big duplication error.