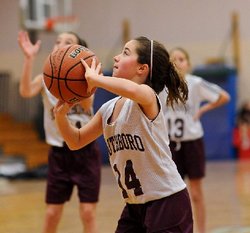 It's always the way. Fall sports have barely begun. But it's time to sign up for winter sports.
Southborough Youth Basketball is now open. 
The season is expected to begin mid-November and run through late February. But the registration deadline is October 15th.
Sign up is for boys and girls in 1st – 8th grade:
All children of all skill levels are encouraged to play!! No previous basketball experience is required
For players in 4th-8th grade, Travel teams tryouts are planned for September 25th – 29th.
For those of you unfamiliar with Travel vs Town ball:
Town – Grades 2-8 have practices one night per week and in-town games on Saturdays. Grade 1 participates in a clinic on Saturdays.
Travel – Beginning in 4th grade, an additional Travel team is formed for more competitive play. Players have to pass tryouts and commit to playing on both the Town and Travel team.
For more details, check out the flyer. To register, click here.
If you have any questions, email southborobasketball@gmail.com.