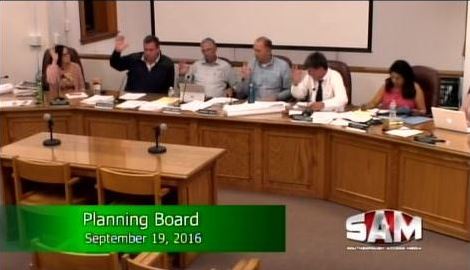 Monday night, the Planning Board voted unanimously to appeal a decision by Southborough's Building Commissioner (or as they referred to him, the Building Inspector.)
The appeal once again relates to Park Central. But unlike the their appeal against the Zoning Board of Appeals filed in Worcester Court last week, this appeal is through Town channels. Ironically, this appeal is being made to the ZBA.
The discussion and vote followed the board's continued hearing on the Park Central Site Plan review. (That hearing was again continued to this coming Monday, September 26. The developer expects a decision that night, though the approval deadline was extended to September 30th.*)
According to Planning Board Member Meme Luttrell, a letter from residents asked Commissioner Mark Robidoux to rule that the Park Central Use Variance, granted in May 2015, expired. He ruled against the claim.
Before voting to question the decision, Chair Don Morris indicated that it wouldn't be disrespectful to Robidoux.
Morris told the board he was with the Inspector a couple of times that day to briefly look at the decision. He said that Robidoux welcomed the board's discussion of it. He believed that the Inspector looks at information thoroughly then makes a decision. "And then, if he's wrong, he'll live with the appeal."
Without a formally requested extension and a ZBA vote, Use Variances expire one year after being granted. For the Park Central 40A townhouse project, the ZBA wrote into the decision that it would be effective once the linked 40B condo project was approved. Based on that, Robidoux determined that the term wouldn't expire until August 24, 2017.
Luttrell believed that case law specifically backs that the one year term is based on the granting date not effective date. Member Andrew Mills quipped that it would be nice to have a lawyer in the house.
Fellow member attorney Phil Jenks opined, it was "a very close call". He believed case law still left it cloudy. And he could see a developer back in court for an answer – perhaps even this case.
He agreed with member Jesse Stein that this appeal would back the integrity of their earlier appeal. He furthered it could effect pulling in a lawyer to answer the question. He said that law backs Town boards appealing 40A project decisions to the ZBA – so it isn't a big deal. And they "could appeal it, just to extend the time."
Jenks followed up to stress that land use law isn't in his background and he has never filed an appeal. His opinion is just based on what he has read. Morris said the rest of the board was probably just as inexperienced on filing an appeal.
The board will file the appeal of Robidoux's decision by this Friday's deadline.
*Note: I still haven't had a chance to fully view the 2 hour long Site Plan Review hearing. If there is information worth sharing from that, I'll post about it later this week.