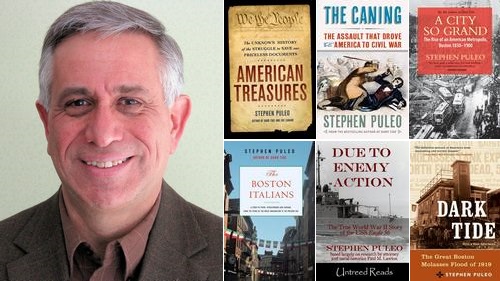 This Thursday, author Stephen Puleo will visit the Southborough Library. Puleo may be best known in our area as the author of Dark Tide: The Great Boston Molasses Flood of 1919.
In 2010, readers of The Boston Globe and boston.com voted Dark Tide as their choice for the single book Boston should read citywide.
Puleo has written five other historical books, including two more that focus on the people of Boston.
Tomorrow night, the historian will talk about his just published book, American Treasures: The Secret Efforts to Save the Declaration of Independence, the Constitution, and the Gettysburg Address.
Advance praise includes from author Richard R. Beechman:
Stephen Puleo has written an extraordinary and truly innovative book on a subject on which hundreds of books have been written: the great American documents, most important among them the Declaration of Independence, the U.S. Constitution and the Gettysburg Address. Puleo weaves together the fascinating story of how the documents were created, how they came to be protected in times of national crisis, and how as a result they have become ever more priceless.
The Book Talk will take place September 22nd at 7:00 pm in the upstairs/main level. I'm sure you can expect Puleo to answer questions on his experiences and books.
Puleo's published works include:
The Caning: The Assault That Drove America to Civil War 
A City So Grand: The Rise of an American Metropolis, Boston 1850-1900 
The Boston Italians: A Story of Pride, Perseverance and Paesani, from the Years of the Great Immigration to the Present Day
Due to Enemy Action: The True World War II Story of the USS Eagle 56