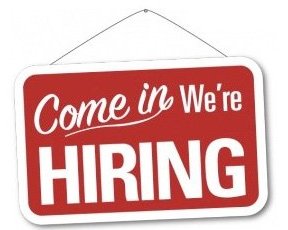 I received another posting of jobs available in Southborough. If you have any of your own job openings in town to share this week, you can add them in comments below.
(If you'd like to share your company's job openings in future weeks, email mysouthborough@gmail.com.)
Town of Southborough
The Town still has a Business Administrator position listed as open. But they just posted a critical position in our Town Government this week:
Town Planner (full time)
Position is responsible for performing professional, supervisory, and administrative work for the Town's Planning Department. Work involves assessing proposals for land use and development; determining compliance with Zoning Bylaws and Subdivision regualtions, and applicable state and federal laws; planning long range projects; acquiring and administering grants; and recommending policies, standards or criteria; performs all other related work as required. (Click here to see the full description. Click here to apply.)
Tomasso's
multiple part-time positions:
Bartender (tipped position/experience required)
Host/Hostess  ($10/hr)
Food Runner (tipped position)
Busser (tipped position)
Candidates do not need any experience, but must have a positive attitude and be able to work well with others. Hours are generally 5-10pm with shifts available Monday-Saturday (varying by position). We are closed on Sundays as well as on Thanksgiving, Christmas Eve, Christmas Day and New Years Day. Employees also receive a $75/month stipend to use towards dining at the restaurant as a guest. Please email General Manager Mike Cicciarella for consideration at mikec@tomassotrattoria.com or call 508-481-8484 to schedule an interview. (Click here to see full description)
Updated (10/26/16 11:15): Town Planner position opening was announced yesterday.