If you don't have your Halloween costumes yet, you better get a move on!
This Sunday, October 30, is the Southborough Firefighter's Association's annual Halloween costume contest and parade.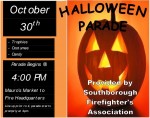 As usual, the line-up is in front of Mauro's Market with the parade starting at 4:00 pm. (Marchers usually begin convening around 3:30pm.)
Kids can collect treats inside the Fire Station at the end while they pass in front of a panel of judges.
Trophies have traditionally been given out for the most creative costume, scariest, and cutest costume. And of course there's the coveted Captain's prize.
For past photos of the event, click here.