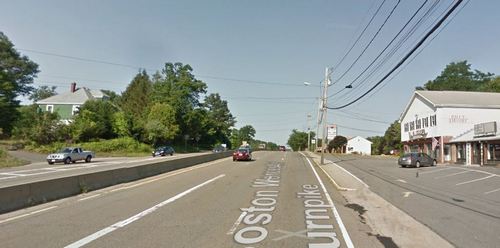 As I have written several times now, Town Meeting voters stripped the Zoning Board of Appeals of its power to grant Use Variances.
However, that may have been overstated. Apparently, the ZBA still has the power to grant it for an application filed and accepted before last week's Town Meeting.
One such application exists. A company is seeking permission to install a large, 24-hour illuminated, digital billboard on Route 9. The location, 6-8 Turnpike Road, is just before Crossing Boulevard on the eastbound side.
Town Code specifically prohibits billboards as well as flashing, moving, changing message and animated signs. Also prohibited is illumination of signs between 10:00 pm and 6:00 am. And the sign would exceed allowed height. The petitioner is "seeking relief" from all of those restrictions.
A public notice for the ZBA's November 16th 7:00 pm hearing has been posted. The Town Planner has confirmed that the applicant is scheduled to first come before the Planning Board on November 14th.
At a September 28th meeting with the ZBA, the applicant's attorney William Pezzoni said he will be explaining why the digital billboard is "better than these other billboards in town". 
At that time, the discussion focused on Lamar Central Outdoor LLC's appeal of what Pezzoni argued was incorrect enforcement of the application process. (He won that argument.)
Now, Lamar will need to make its case on the merits of its Use Variance and Special Permit request. The ZBA decision deadline is December 30, 2016.
According Southborough Wicked Local, the application is for a 48′ x 14′ billboard. A posted rendering shows it pointed towards westbound traffic.
The applicant hopes to convince the Town that a digital billboard is a resource for the community. (And it looks like some guilt about missing children alerts will be thrown in, to make that case.)
SWL writes:
In its application, Lamar say the town's bylaw is outdated and the town does not have a digital billboard for Amber Alerts. The company will donate time on the billboard for town services.
For more details, and a rendering of what the sign would look like, click here.