Across the country today, people are celebrating Giving Tuesday. Here's a follow up story on two Southborough girls who embody the spirit of the day.
Last year, I shared that two eleven year old hometown girls founded their own charity. This year they are continuing the work. They have asked me to help them reach out to the community in hopes repeating last year's success.
In 2015, Lauren Dratch and Caroline Sullivan successfully launched "Pretzels for Presents". The Trottier students sold gourmet pretzels to raise money for a worthy cause. Proceeds were used to buy presents for Children's Hospital patients who are stuck in the hospital through the holidays.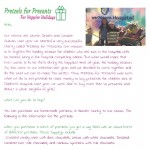 Last December they delivered a full carload of gifts to Children's.
You can help them do it again for this Christmas by purchasing a 4-pack of candy coated pretzel rods for $4.
Each pack includes one of each of the following coatings: dark chocolate with crushed candy cane, white chocolate with oreos, milk chocolate with drizzled caramel, and milk chocolate with rainbow sprinkles.

To purchase pretzels or donate to their cause, email Caroline Sullivan at cgsully@icloud.com or Lauren Dratch at laurendratch@gmail.com.
Updated (12/4/16): I had a typo in Caroline's email address. So, if you reached out and didn't hear back, that's my fault. Please try again.