In past years, the busy first Saturday in December has included the annual "Chestnut Hill Farm Holiday Art & Gift Sale". It's always touted as a great place to find unique and creative gifts.
But don't look for it this weekend. Organizers are making it easier for shoppers to get to them by waiting until a less busy Saturday.
And with so many artists/vendors involved, they've expanded to two locations.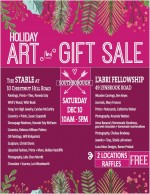 On Saturday, December 10th, the Holiday Art & Gift Sale will run from 10:00 am to 5:00 pm in the stable at 10 Chestnut Hill Road and at L'Abri Fellowship at 49 Lynbrook Road.
The sale will feature local artisans and craftspeople offering all sorts of gifts from prints and cards to jewelry to delicious chocolate and more.
Check out the flyer for more details and a list of those who will be participating this year.