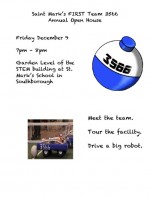 A week from Friday, St. Mark's School's robotics team is holding an open house.
The public is invited to meet FIRST TEAM 3566, Gone Fishin'. You'll also have a chance to tour their facility, and (most importantly) drive a big robot.
The event takes place on December 9th from 7:00 – 8:00 pm in the school's STEM building.