On January 21st, hundreds of thousands of women will be marching to send a message to our country's leaders. They won't be marching down Southborough's Main Street. But some women from Southborough will be joining them and are inviting you to come on board.
The event is billed as a "peaceful, nonpartisan march".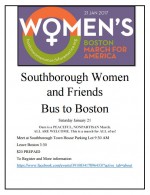 A Southborough resident has organized buses to bring community members to the nonpartisan march organized in Boston. If you want to join them, you can sign up by prepaying $20 (to help cover the cost.) For details on how to register for the bus, click here.
Boston Women's March For America explains the message they hope to send:
On January 21, 2017, we will unite in downtown Boston to march in solidarity with communities most affected by the hate, intolerance and acts of violence being perpetrated throughout the nation—among many are communities of women, immigrants, people of color, people who identify as LGBTQIA and people with disabilities. Together, we will send a message to our leaders and the world that the United States of America stands for values of human dignity, equal rights and freedom from discrimination. Ours is a peaceful, nonpartisan march.
The event is taking place from 11:00 am – 3:00 pm, starting at the Boston Common, proceeding down Commonwealth Avenue (1 mile) and returning to the Common.
Of course, you don't need to take the bus to join the march. For more details on the Boston event, and to register as a participant, click here.